Animal Health in the Heartland
Animal Health in the Heartland
5/24/2022 - 5/25/2022
Description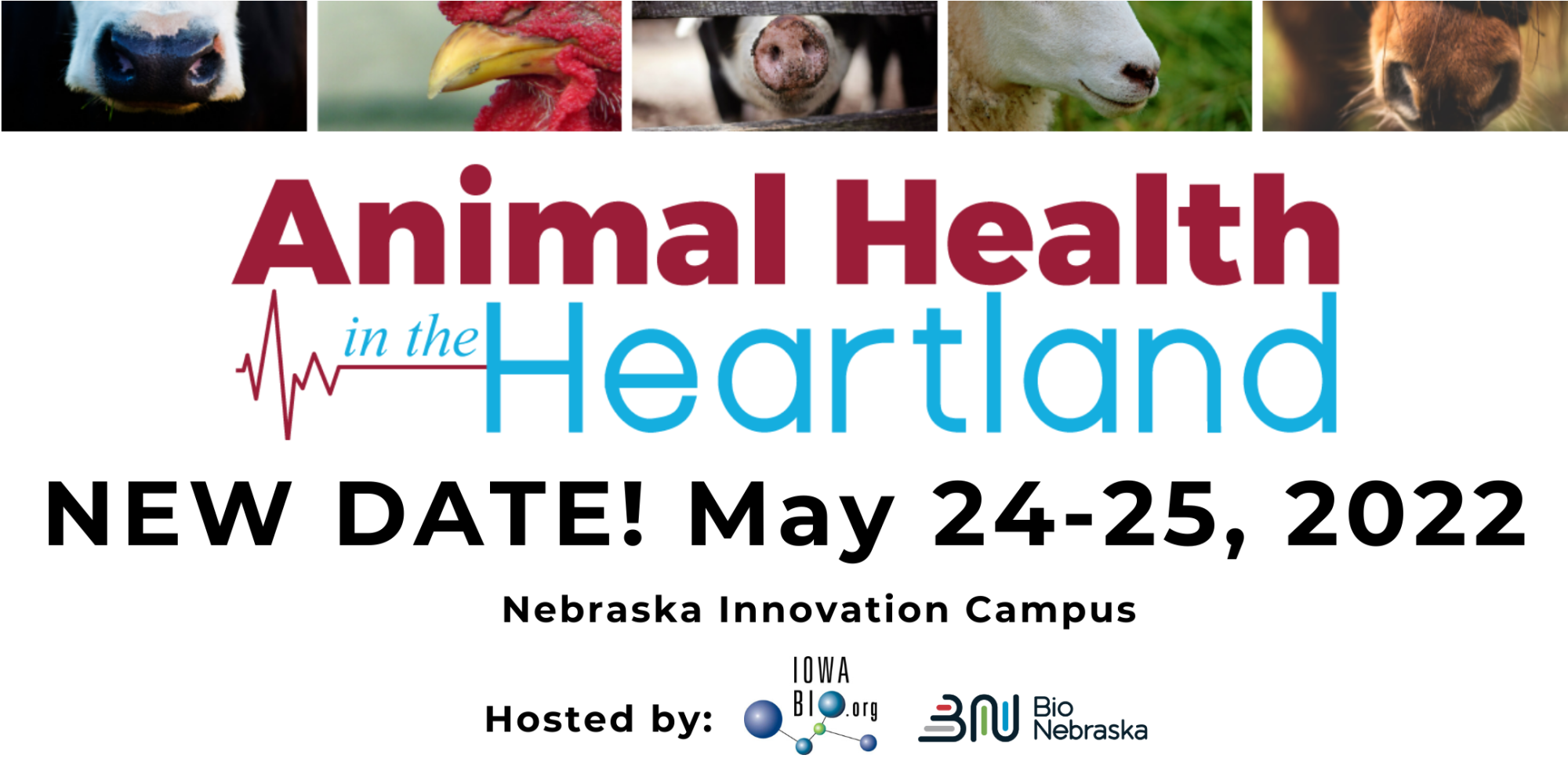 Bio Nebraska and IowaBio present the Animal Health in the Heartland Symposium, where industry leaders and professionals in the animal health industry address critical and important conversations surrounding animal health innovation, management and sustainability. This year's symposium features a site tour and networking reception on day one, followed by a substantive agenda packed full of important animal health topics on day two.
---
Animal Health in the Heartland Panel Overviews
Animal Disease Management and Prevention
This panel will explore:
Vaccination programs vs. antibiotic usage
Diagnostics, testing, and modeling, including traceability and spread control
Utilizing technology and data to prevent and control outbreaks
Zoonotic diseases and lessons learned from COVID-19
Moderator:
Josh Johnson, Director of Biologic Operations, Huvepharma
Panelists:
Ryan Vander Veen, PhD, R&D Director, Huvepharma
Dustin Loy DVM, PhD, DACVM, Associate Professor of Veterinary Diagnostic Microbiology, University of Nebraska-Lincoln, School of Veterinary Medicine and Biomedical Sciences
Phil Gauger, PhD, Associate Professor and Veterinary Diagnostician, Iowa State University, Veterinary Diagnostic Laboratory
Luke Baldwin, DVM, MAM, Director of Veterinary Services, Animal Welfare, and Biosecurity, Lincoln Premium Poultry
Kent Doolittle, Swine Sales Manager, IDEXX
New Innovations in Animal Health
Learn about how new innovations in the animal health industry have the potential to redefine industry practices and support continued industry growth.
Presenters:
Paul Koffman, Executive Director, North American Merck Animal Health Intelligence Business: "Using Biometric-Monitoring Technology to Transform Delivery of Animal Health and Wellness"
Dr. Rick Sibbel, Strategic and Technical Lead, Mazen Animal Health: "Achieving the Dream of Oral Vaccination"
Scott Niewohner, Founder and CEO, Birds Eye Robotics: "The Trickle-Down Effect of Robotics into Ag Bioscience and Animal Health"
Murali Deshpande, Phibro Animal Health Corporation: "A Multi-Valent PRRSV Vaccine to Protect Against Heterologous PRRSV Isolates"
Industry Sustainability
As food demand rises alongside global human population growth, panelists will explore ways to preserve essential resources while striving to meet demand and providing transparency to a consumer market that's more focused than ever on sustainability
Moderator:
Sarah Gallo, Vice President, Agriculture & Environment, Biotechnology Innovation Organization
Panelists:
Eric Mittenthal, Chief Strategy Officer, North American Meat Institute
Herve Hartmann, General Manager, Veramaris, LLC
Joseph D. Sweeney, Chief Executive Officer, Eagle's Catch
U.S. Policy Outlook
Panelists discuss changes and new policies under the Biden Administration and what that means for the agricultural industry.
Moderator:
Jordan Dux, Director of National Affairs, Nebraska Farm Bureau
Panelists:
Iowa Pork Producers Association
Kris Johansen, Associate Director of External Relations at National Institute of Antimicrobial Resistance Research and Education (NIAMRRE)
Michael Dolch, Director, Public Affairs, Iowa Soybean Association
Amelia Breinig, Director, Government Relations, Merck Animal Health
---
Accommodations
Symposium Venue
Nebraska Innovation Campus
2021 Transformation Drive
Lincoln, Nebraska 68508
*Lodging and reception details to come at a later date.
---
Thank You to our Sponsors!
VIP Dinner Sponsor:


Silver Symposium Sponsor:
Reception Sponsor:
Nebraska Innovation Campus
2021 Transformation Dr Suite 112



Lincoln

,

NE

68508

United States